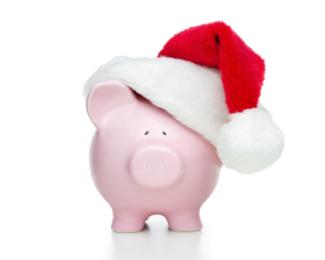 Holiday Spending on a Budget
The holiday season is just around the corner, and that means that many of us will overspend yet again. If you are tired of spending spring and summer paying off your holiday credit card bills, you need to set a reasonable budget and stick to it. You can enjoy a wonderful holiday on a budget, but you need to set some ground rules before you log on to your computer or head to the local mall.
The first thing you should do is decide how much you can comfortably afford to spend. Take a good look at your household budget and determine how much disposable income you have to work with. Knowing how much you can spend will help you set a budget you can live with.
Instead of spending new money on the holidays, reallocate money you would have spent elsewhere and use those funds to buy presents for your friends and family. If you would have spent $100 on dinner at a local restaurant, take that money and use it to buy holiday presents instead. Be realistic about what you are willing to give up and how much you are ready to sacrifice for the holiday season. If you can only afford small gifts this year, make the most of those gifts and be satisfied with that.
Always set your holiday spending budget based on your finances and not the desires of the people on your gift list. Also avoid comparing your holiday spending to that of others - keeping up with the Joneses will only leave you broke and miserable when the New Year rolls around.
It is also a bad idea to compare the gifts you give to the ones you receive. You do not know anything about the finances of the people who give you gifts, so never feel compelled to better their offerings or even give gifts of equal value.
One of the best ways to avoid debt and control your spending is to look at your holiday shopping as a zero-sum game. For every dollar you spend on the holidays, take one dollar out of your regular spending. You may need to make a few sacrifices to make it happen, but being debt-free will be well worth it.
When deciding who to buy for, take a page from Santa Claus and create your own naughty and nice list. And remember - you are not Santa Claus. Unlike the jolly old elf, you do not have to provide gifts for everyone in the world.
If you have a big family and lots of adult kids, consider doing a gift exchange instead of buying presents for everyone on the list. Try to limit your gift list to no more than 5 people outside the immediate family. You can always make inexpensive but heartfelt gifts for others - like a batch of cookies or homemade presents. Be proud of what you give - and always give from the heart.
Hosting holiday parties can be expensive, and many people get more invitations than they can handle. Consider organizing a group volunteering project instead of hosting another party. You will feel better - and everyone will get into the true spirit of the holiday.
This year, consider spending time instead of money. Spending quality time with your family and friends is what the holiday season is all about. Your family members will appreciate spending time with you far more than they will a store-bought gift.
Be sure to take lots of pictures at your holiday gatherings. The memories you make now will last a lifetime, and you can use those photos to create personalized presents to give in the coming years. Something as simple as a framed family photograph makes a wonderful gift, and your generosity will be remembered.
If you are looking for a simple and inexpensive gift for the people on your gift list, gift cards may be the answer. When you give gift cards, it is easy to control your spending, since you know exactly how much each card will cost. You can spend as little as $5-$10 on a gift card - perfect for stocking stuffers, gifts to hairdressers, mail carriers and service personnel and just about anyone else.
Even better, you may be able to get gift cards for less than face value. A number of websites allow people to buy and sell gift cards at a discount, and the recipient never needs to know you saved money. By the time you are done, you will have plenty of great gifts under the tree - and plenty of extra money in your bank account.
Don't let the holidays ruin the budget you live by all year. With these simple steps you can keep yourself and your checkbook from getting out of hand. Enjoy this holiday season with no regrets later.